NEW: Gold on silver, vermeil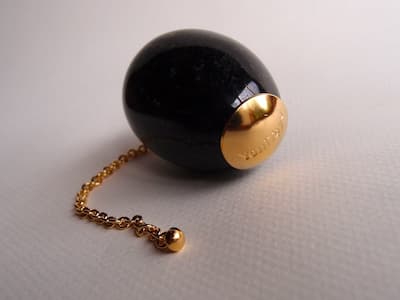 Sober, beautiful, ingenious, efficient, the qualities of the semi-precious stones, an ancestral tradition, a much thought about and much tested design... These two pieces of jewelry integrating the Yoni Eggs have been made using 950 silver by an artisan jeweller, in France, and using the MYRHA design.
All the pieces, designed conscientiously and with love, in small numbers, are formed and carved by hand.

With the YoniToy® and its complimentary YoYo Chain, here is the Yoni Eggs' guide revisited and completed by a female designer...

Finding it a pity to only offer one thread for the wonderful use of the Yoni Eggs and, quite frankly, a woman's intimate parts deserve better than that... I came up with the idea of making The YoYo Chain, adaptable to all the Yoni Eggs with a simple motion.

The Yoni Chain is the essential addition to the Yoni Eggs.
Perfectly adaptable to the egg once it is in place, just thread it through one of the extremities. The chain allows certain sexercises, the YoYo games... and it also allows the withdrawal of the egg. The fact that it goes through and passes the entrance of the vagina, procures light sensations... The sliding motion of the egg, like all sexercises with the Yoni Egg, The Magic Lingam and the YoniToy, is a Yoga using these key things: exhaling, inhaling, presence and... Relax...
The Anointing Intimacy Solar Oil, Huile Consolatrice Intimité, is recommended to accompany the use of these products.

The YoYo Chain can be adapted to all the Yoni Eggs that are recommended on the site, including those suggested with the YoniToy®, except the older versions of the Eggs because the holes are not big enough.

Ejoy!
Note: The YoYo Chain is offered with a small protective bag designed to hold the Yoni Egg, and with a cotton cloth which is used to dry the Egg and YoYo Chain. The Yoni Eggs are sold separately.
The text below can be downloaded and will give you all the information needed for this product.
trademarks and registered designs ®